Contact us at 800-344-5342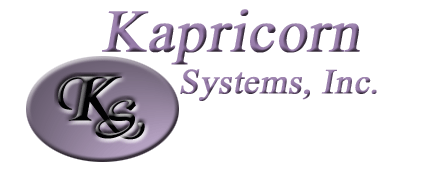 Kapricorn Systems, Inc. services all of Pennsylvania, Maryland, Ohio, West Virginia, New York and New Jersey.

At Kapricorn Systems, Inc., we work with you and your staff on a daily basis, identifying the specific needs of your practice. We offer a wide range of technology products and services as part of our comprehensive approach as a full service prvider.
Practice Evaluations and Recommendations - Our rep comes to your office and meets with you and your staff to determine what you would like to accomplish and help you choose the products that will work for you. We assist in locating computers, placing and choosing mounting arms, determining the type of networking that will work best for you, and choosing types of computers for the space available. We will show you a portfolio of other offices we have helped move into digital technology.


System Installation and Project Management - We will oversee the entire installation process so that your experience is not eventful. We work with your office to minimize downtime and get the office fully utilizing the technology in a reasonable time frame.


Service Support/Maintenance Plans - Average Plan is $159.95/Month For Unlimited Remote Support & On-Site Service

On-Site Services - Computer hardware, networking and imaging devices

Installations, chair side clinical integration, and maintenance

Technician remote computer access via LogMeIn.com

Telephone Help Desk Services - we offer unlimited 800 phone support for all your problems or questions.


Software Installation and Maintenace - We will properly install and configure your practice management software and diagnostic tools so that you are able to benifit from all of the features your program has to offer.


Training & Consulting - Our trainers have years of experience as trainers and clinicians. They can properly train your practice on your Practice Management & Imaging software. Not only do they know the nuts and bolts of the software but they are able to assist you in applying the software to real scenerios in a working office.


Integration and Networking - Development and implementation of a comprehensive technology plan offering a complete clinical network solution including:

Image Management

Digital X-rays and IO Cameras

Patient Education

Practice Management Software

Internet and Email Solutions.


System Security:

Data Backup (Remote Backup Services) as low as 44.95/mth - HIPAA Compliant

Encrypted Email Service

Internet Firewall Management

Disaster Recovery

Virus Management

Secure Locked Down HIPAA Compliant Networks
"A Complete Solution For Your Practice Technology Needs"