Contact us at 800-344-5342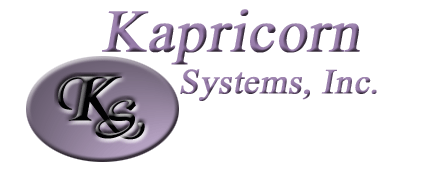 Kapricorn Systems, Inc. services all of Pennsylvania, Maryland, Ohio, West Virginia, New York and New Jersey.
QUICKRAY DIGITAL DENTAL X-RAY SENSOR SERIES
QUICKRAY IS ONE OF THE BEST PRICED SENSORS IN THE INDUSTRY
The QuickRay Digital X-Ray Sensor series gives you pristine image clarity at the highest resolution with minimum radiation exposure; and connects directly to your computer's USB port without requiring a special interface box!
The QuickRay sensor offers rounded corners, smooth edges and two sizes (size #1 for children | size #2 for adults) to optimize patient comfort while receiving a dental X-Ray. One of QuickRay's biggest advantages is gain in time. Captured X-Ray images are projected directly to the dentist's viewing screen in just ~3 seconds, making it the fastest intraoral dental sensor in the industry!
The thin, tough and durable polyamide housing is less than 1/4" and features a CMOS imaging sensor chip, CSI Scintillator, electronic circuits, shielding foils, polyurethane cable and shock absorbers. Tough polyamide housings have durable replaceable polyurethane cables with ergonomically placed connectors.
​
Tired of ambiguous and worthless fee based "extended warranties"? When you purchase QuickRay or QuickRayHD there are no "Enrollment Fees" or "Annual Subscription Fees". Our Warranty is clear: 2 years against defects; 7 years against accidental damage. When it comes to accidental damage we offer a 7 year replacement plan that is the longest and most comprehensive on the market.
Click Above For Additional Information